About Us
The Animal Care Society (Cork), a registered charity, was formed in October 2000. The aim of the Animal Care Society is stated in its name, to try and provide care to all animals in Cork City and County that require it. We are almost entirely made up of volunteers who give their time and effort to help animals. We are in NO way associated with the CSPCA, also known as the "animals home".
Through our network of dedicated dog, cat and wildlife fosterers we have rehomed about six thousand animals since our foundation. We also operate a help line service. ACS Help-line Volunteers are the interface between the public and the Society. Their Job is to deal with a broad range of animal related queries in a professional manner. We also run a charity shop located in Togher, Cork from which all the proceeds are directly going towards helping the animals in our care.
While dealing primarily with companion animals the Society has also dealt with numerous cases involving other domesticated animals and wild life. Through a program of neutering and spaying it tries to address the terrible problem of feral cats and the immense suffering they endure. It reports cases of cruelty to farm animals to the inspectors of the department of agriculture who deal with those matters. It works with the ISPCA (Irish Society for Prevention of Cruelty to animals) where appropriate.
By means of its Clyde Fund, founded by ACS member Mrs. Kathleen Quinlan and named after Clyde, the dog left dying in the roadside, the Society provides veterinary care for stray animals injured in road traffic accidents. On a general level we endeavour to promote a responsible approach to pet ownership and a positive attitude to animal welfare through education talks.
Here are some of the faces of the ACS'ers who you might come in contact with. Dagmara, who volunteers at the sanctuary when she can. Our mainstay at the sanctuary is Zdenka, surrounded by her beloved dogs. You can't miss Katie, in her best X'mas spirit. Our intern Tara was just away while we had the photo call. And they are only a few of our many supporters, volunteers and true animal lovers, which help to make our world a better place for the animals.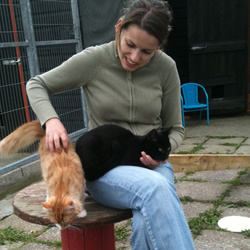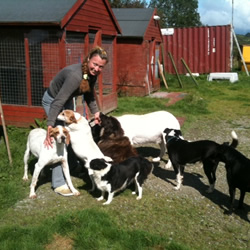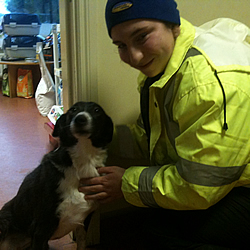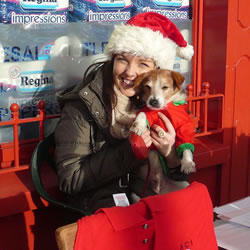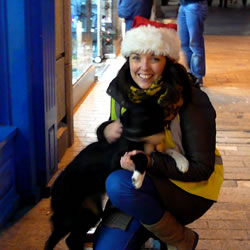 HOW You Can Help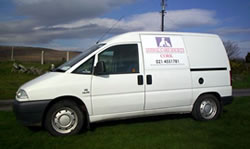 At the moment we urgently need volunteers to man our help-line and also to help run our charity shop in Togher which is a vital source of income for the Society.

Our phone line volunteers are giving all the help they can in circumstances where resources are finite. The tough part of the job is not helping, but sometimes being unable to help. The job training is informal and is backed up by the availability of a network of experienced people. The help line is open Monday to Saturday 09:30 to 6.30 pm.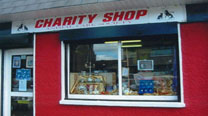 Our shop in Togher is located at Greenwood Estate, Togher, Cork. Wheelchair access is possible in the Togher store. Volunteers need to be prepared to take responsibility. The shop deals with clothing, bric-a-brac, books, shoes and similar items. In many ways it functions as a standard retail unit with the exception that the public donates the stock. The shops are open 11:00 am to 5pm Monday to Saturday and are normally manned by one or two volunteers working for a full or half day. However, those able to give any time would be welcome, please contact us today if you would like to find out more. If you are an experienced driver with a clean driving license we also like to hear from you, our animal ambulance is always in need of a back-up driver for its many trips to the UK rescue centres we work with.
---
RESCUE ANGELS
Tail tucked between your legs,
Confusion in your eyes
I know it's hard to understand
That someone heard your cries.

When loneliness is all you know
And pain is all you feel
And no one can be trusted
And hunger's all too real.

That's the time the Lord sees you
And lets you know He's there
That's when He sends His messengers
The hearts that love and care.

Yes, rescuers are angels
You cannot see their wings
They keep them neatly folded
As they do their caring things.

The medicine to make you well,
Good food to make you strong.
And finally to help you learn
That hugs are never wrong.

The perfect place then must be found
The home where you can live
Secure and safe and happy
With joy to get and give.

When you reach your Forever Home,
Your place to feel whole.
The angels smile and off they go
To save another soul.
Author Unknown
back to top