Flora Women's Mini-Marathon 2012
Posted: February 2012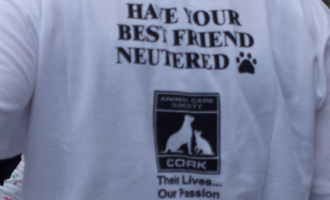 The Evening Echo Mini-marathon takes place on September 16th 2012, you can register online here. Don't forget to order your sponsorship cards from Kayleigh@animalcaresociety.ie.
Running/jogging/walking the Flora Women's Mini-Marathon is an excellent way to raise funds and help us to save the lives of animals. The mini-marathon takes place in Dublin on the 4th of June. You can register from the 22nd of February by registering online (click here) or filling the entry form in the Evening Herald every Wednesday and Saturday. You can email Emilie@animalcaresociety.ie to order your sponsorship card or obtain more information.
---
Planning 2012
Posted: January 2012
The number of animals needing our help is constantly increasing. In order to be able to help more animals, we need more funds and for that we need your help.
There are many ways to volunteer with us. If you would like to give us a hand, please fill out this form and return it to Emilie Peneau, c/o Cork Animal Care Society, Hillview Lodge, Clashbredane, Kilmichael, Co Cork.
---
Christmas Fairs and Collections 2011
Posted: November 2011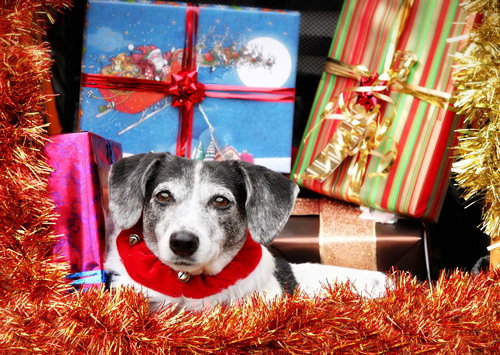 We have a few fundraisers coming up in December to raise some much needed money to help the animals in our care and the many more who are sure to cross our path in the months coming. If you would like to lend us a hand for any of these events, please contact Emilie on 0894578655 or at Emilie@animalcaresociety.ie. Our four-legged furry friends are more than welcome at those events. Cannot make it to any of these events, you could still help by donating a few of your craft creations…
Thanks for your help and support!
3rd of December, 10am to 6pm: Santa is coming to Cobh and the ACS will have a Christmas stall there, some of us will be doing some Christmas carol singing, others face-painting, while more will be collecting. There will be a great raffle, some cakes and it should be a lot of fun.
9th of December, 7pm to 9pm: the ACS will have a stall at the Christmas Gift Fayre in aid of Cobh Lions Club, come to say hello to us!
10th of December, 10am to 6pm: the ACS will be animating Patrick Street with some carol singing. There will also be a Christmas stall and collection. Meanwhile, we will have another stall at the Cork Christmas Indoor Food and Craft Fair in the old FAS building.
11th of December, 12.30pm to 5.30pm: again, the ACS will be present in Patrick Street with some carol singers, a Christmas stall and collectors.
---
Cork Women's Mini-Marathon 2011
Posted: August 2011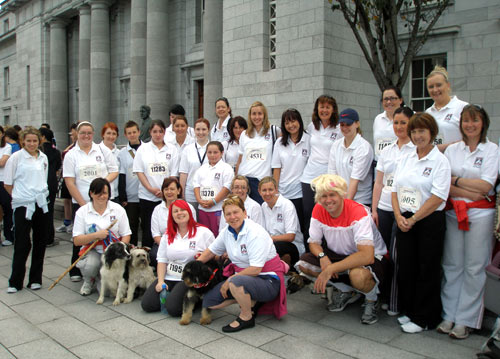 "The 2011 Evening Echo Womens Mini Marathon will take place at 1 p.m. on Sunday, September 25, 2011. The race will start at 1 p.m. from the City end of Centre Park Road, and will cover a four-mile course taking in Centre Park Road, The Marina, Blackrock Village, Ballintemple, Monahan Road and will finish in Kennedy Park." (Evening Echo)
Ladies (and apparently I should say "gentlemen" as well)!
The ACS has a tradition of running for the Cork Women's Mini-Marathon organised by the Evening Echo. This year is no exception and we have decided to keep running in loving memory of Anne Fitzgerald (RIP) who used to take part every year.
The ACS is already registered, but each participant needs to also register individually.
To register, it's easy:
contact the Evening Echo at minimarathon@echo.ie
contact us (emilie@animalcaresociety.ie) to order your sponsorship cards.
Closer to the date, everyone will receive one of our "HAVE YOUR BEST FRIEND NEUTERED" polo shirt.
Once you have received your sponsorship cards, you can go to your friends, family, work colleagues, asking them to sponsor you. They will have to pledge a certain amount, which you will need to collect once you have done the race.
Do not hesitate to contact us if you have any questions or need more information.
---
Support the ACS, run the Flora Mini-Marathon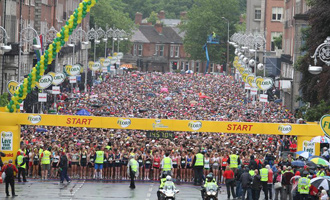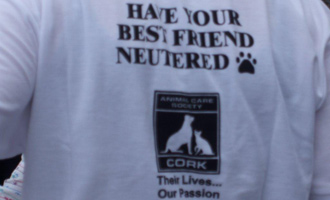 The ACS needs your support. Please help us raise much needed funds so we can continue our work. You too can make a real difference. Contact info@animalcaresociety.ie for your sponsorship card and additional information. Join with others who are doing the same and help the animals who so desperately need help. Proudly wear our now famous polo shirt with the embroidered ACS logo on the Front and our memorable slogan on the back: HAVE YOU BEST FRIEND NEUTERED. (see picture).
You can also get yourself sponsored by setting up your own page on www.mycharity.ie
See http://www.mycharity.ie/create.php and http://www.mycharity.ie/donate_charityIndex.php?charityID=200
---
Spreading the Word !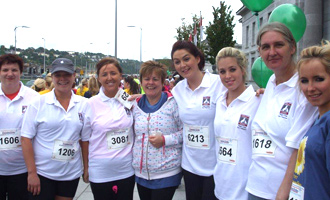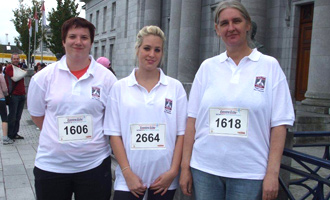 Yet again our Cork ACS supporters went flying the flag urging the public to spay and neuter their Pets. Our ACS trademark polo shirt always attracts plenty attention ( we have to admit usually from the males!) and it has brought a smile to many faces.
To all who participated in the Ladies Mini Marathon and helped to spread the word we say: THANK YOU. It could not have been done without you and your support. Your dedication to animal welfare sends a message of Hope, Hope that one day our famous Polo shirt will no longer be needed.
---

Running saves Lives !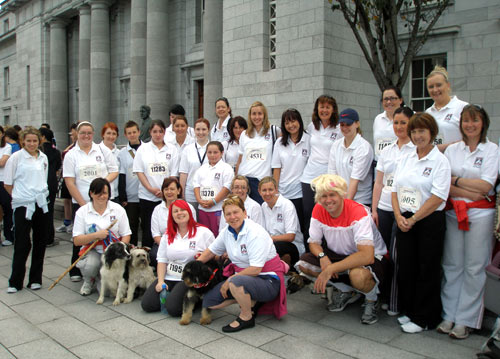 Calling all animal lovers. Show your support to the animals and the folks working to help them. Why not run for the Cork ACS Charity in the Ladies Mini Marathon? It promises to be another great event as in previous years and your support will help save lives!
Email info@animalcaresociety.ie for your sponsor cards. Below are the details and date of the event.
» Click Here To Register online with the Mini Marathon group
Details Of EVENT
The 29th Evening Echo Women's Mini Marathon will be held on Sunday, September 26, 2010 at 1 p.m.
Starting on Centre Park Road, the race will be run over a four mile course which will include the Marina, Blackrock Village, Blackrock Road, Ballintemple and Monahan Road.
---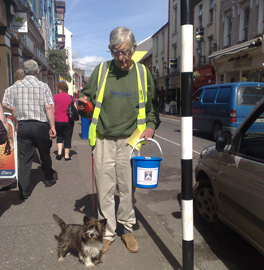 Pictured here is one of our great supporters, Mr. John James, with his dog, Mr. Riley, helping at our recent street collection in Youghal on 22nd August. Mr. Riley was one of our early rescue stories who was adopted by John James in 2001.
---
OCTOBER 2009
Sun 4th Oct
World Animal Week
CORK ANIMAL CARE WEEK
To celebrate World Animal Week which runs from the 4th to the 10th October, Maxi Zoo pet shop will make a donation to local animal charities for every purchase made in their stores. Maxi Zoo have pet shops in Midleton and Ballincollig. This fantastic offer runs for the whole month of October so be sure to stop by one of their shops for your pets' needs and support Cork ACS at the same time!
Sunday, 18th October.
Cork Cat Club is holding a cat show in Cobh - would you like to help with our stand there?
Saturday 31st Oct
Finger puppet sales in Dunnes Stores, Bishopscourt (Bandon Road roundabout)
volunteers needed!
---
NOVEMBER 2009
Wednesday, 4th
Finger puppet sales in Blackpool shopping centre.
Volunteers needed!
Saturday, 14th
We will be attending the official opening of a new veterinary practice
Volunteers welcome to help with our stand
Saturday, 21th
Midleton farmers' market - we will have a table selling our Christmas cards and calendars
Tuesday, 24th
Street collection in Cork city centre and in Wilton and Blackpool shopping centres.
Volunteers needed!
Friday, 27th & Sat 28th
Bag-packing in Dunnes Stores, Ballincollig. Volunteers needed!
Sat 28th & Sun 29th
We will have a table at the Carrigaline Christmas Fayre



---
DECEMBER 2009
Thursday, 3rd December
We will be selling our cute finger puppets in Douglas Court Shopping Centre. Volunteers needed!
CAROL SINGING – VARIOUS LOCATIONS

CHRISTMAS MERCHANDISE AND

CHRISTMAS CARDS

CHRISTMAS RAFFLE

CHRISTMAS CALENDAR
---
Anyone who would like to run an Independent Fundraising Event for the Cork Animal Care Society, is very welcome to contact info@animalcaresociety for help, advice, publicity materials, etc - we welcome your input to our fundraising. Have fun and help the animals too!
To get involved: email us at info@animalcaresociety
Or log into www.mycharity.ie/charity/animalcaresociety to create your own page!
Pictured here is ACS supporter Lourdes SantaMaria who braced the icy waters at Christmas time in a sponsored swim for the ACS. Single handed Lourdes raised 275 Euro for the ACS !
The ACS is most grateful to Lourdes for her dedication and effort in support of our work. It is people like Lourdes who live by our motto: Their Lives...Our passion. Lourdes took our credo and made it her own: Their Lives...My Passion. With supporters like her there is truly Hope for the Future. The photo shows Lourdes with Kiva. Kiva belongs to the Agger family in Cobh who came along to support Lourdes. Kiva is a SMART Dog and decided to stay dry and let Lourdes brave the freezing water!
Yes, Animal Welfare can have its lighter moments too. Just have a look. These pics were taken at the Cork Ladies Mini Marathon and show some of our many volunteers giving their marvellous support tp the Society.
Our now trademark Polo shirt attracted its usual share of attention, mainly from the males of our species we hasten to add. The ACS wishes to express its sincere gratitude to all who participated, it is people like you who are our ambassadors and show to the world that real animal welfare is alive and well in Cork. THANK YOU ALL.
Pictured here are some of the many ACS volunteers, young and old, who helped at our bag packing session in Dunne's Stores Blackpool, last Saturday and Sunday. What a team of marvellous people they were. A special thank you goes to Katie O'Brien, who gave up her whole weekend ! to help her Aunt Sara to collect and pack those bags. Gordon Rodgers did the same and helped to beat the band. With kids like Katie & Gordon, there is real hope for the animals. Many of our helpers gave up a Saturday and/or Sunday to help us. Another team was active in Mallow town doing our street collection, some even doing an "Evening Echo" effort by collecting for the ACS between the traffic lanes in the main Mallow to Cork road ! The counting is still going on, but by all accounts it was a hugely successful weekend. To all of our super heroes we say: Thank you, it couldn't have been done without you, to Management, Staff and Customers of Dunne's in Blackpool we express our sincere gratitude. All of you gave it all. As we've said before. Dunne's? THE PLACE to shop.
Did you know you can raise up to €6 a month for the ACS? It DOESN'T cost you or us a cent!
Well the ACS has teamed up with Click Now to provide an ACS websearch facility, which helps raise funds for us while providing search results for you. The web search facility works in the exact same way as any other search engine, the only difference is we receive a donation from Click Now based on the search activity of its supporters!
By making this simple switch you will help us help abused and abandoned animals. So go on tell your family and friends to make the switch too. Every search counts!
The Animal Care Society would like to thank everyone who has supported our cause, however, our journey has just begun and we need your continued support to help us generate the funds to build an ACS sanctuary and improve animal welfare practices in Cork City, County and nationwide! The key to making this happening is a regular source of income. PLEASE help us in one of the following ways: