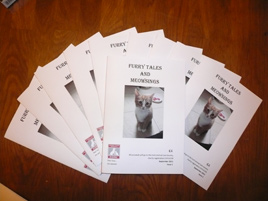 Furry Tales and Meowsings
Price: €4.00 + P&P*
Our handmade booklet of creative writing, Furry Tales and Meowsings, has finally come out! Every month the Cork Animal Care Society is bringing to you short stories and poems written by our supporters.
It costs only €4.00 (plus p&p) and all the proceeds will go towards the welfare of the animals in our care.
You can also buy the booklet from vets, pet shops and bookshops in Cork county. For a full list, please visit our blog.
If you would like to order multiple copies or are from outside Ireland and the UK, contact us at sales@animalcaresociety.ie.
Happy reading!

In Stock

Quantity:


*all the proceeds will go towards the welfare of the animals in our care